Landscape & Hardscape Services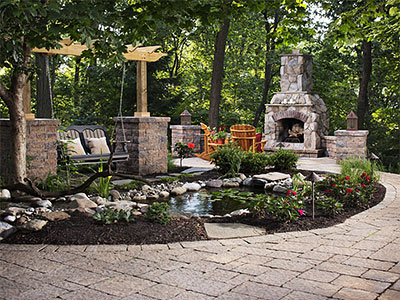 We at The Greenskeeper have worked consistently for over 32 years and helped create stunning landscapes on our clients' properties. We offer custom outdoor living services and make sure that our clients are delighted with our solutions. Our company caters to clients in and around Palmyra. We have made our mark in this space based on consistently high-quality services, commitment, and hard work. The range of services we offer includes:


Hardscaping
Regardless of the size of your landscaping, it will have some hardscaping features. We have the skills, expertise, experience, and resources to design and install various hardscaping features such as retaining walls, driveways, walkways, pathways, fire features, and more. We use high-grade materials in the installation so that they are strong, sturdy, last for many years, and are easy to maintain. We take care to match the style and design of these structures to all the other features in the landscape. We offer the best custom design services so that your landscape is as you want it to be. Read More About Hardscaping »


Pools Patios
When it comes to residential yard features, pools are a common element. It is a value-add to your property and provides an excellent return on investment. Our designers can plan custom pools that fit perfectly into the layout of your landscape. These features have to be planned carefully and installed to industry standards. We also design and install patios and recommend the use of interlocking concrete pavers for these features. These paver stones are available in a variety of designs, styles, patterns, and sizes. This enables us to create unique designs and patterns on the patio, which enhances the appeal of your landscape. Read More About Pools Patios »


Landscaping
Our company offers excellent landscape design and installation services to residential clients across the region. We have the expertise and skill to plan the layouts of small and big landscapes and also plan various features expertly. We can create the best hardscaping and softscaping elements and make sure they are used in the right measure. We make sure that the elements are built using good quality materials. The plants, shrubs, trees, and sod are sourced from the most credible nurseries so that your landscape is sustainable. We can also design and build structures like waterscapes and fire features, based on your preferences and budget. Read More About Landscaping »


Waterscaping
Including the water element in a landscape is one of the best ways to add freshness and life to the outdoor spaces. We design different types of waterscapes depending on your needs and the aesthetic of your landscape. Our team can install waterfalls, fountains, streams, and ponds, etc. Whether you want a simple feature or something more elaborate, we are here to help. Our designers are very creative in their approach and make sure that the styling and materials used match the aesthetic of your landscape. We can design and build water features that have a natural charm or ones with a more formal feel. Read More About Waterscaping »


Landscape Maintenance
Maintaining the landscaped areas is an essential aspect of having stunning and functional spaces that enhance the appeal of your property. The hardscapes and softscapes require regular care to keep them looking great and in good condition. We offer the best landscape maintenance plans, and our experts know how to handle every job to industry standards. We make sure that all the plantings and grass is fertilized well and that all the branches are pruned and trimmed regularly. We also maintain the drainage and irrigation systems. Seasonal cleanups help to maintain the overall condition of the landscape. Read More About Landscape Maintenance »


Christmas Lights
The holiday season brings with it happiness and cheer, and homeowners across the region want to decorate their property during this time. But stringing out fairy lights or installing other Christmas lighting can be quite a time-consuming task, and its best to hire experts like us for it. We offer efficient and timely Christmas lighting services. Whether you have lights that need to be installed 'or want light fixtures and installation services, we can help. We are very creative in our approach, and you can be sure that the lighting services we offer will make your property stand out from the rest of the homes in your neighborhood during the holidays. Read More About Christmas Lights »

We offer comprehensive and customized landscape design and installation services at very competitive pricing. For any more information, feel free to call The Greenskeeper at this number-717-838-5299. You can also send us your queries or questions via this Contact Us form, and one of our team members will call you shortly. We look forward to working on your next project.